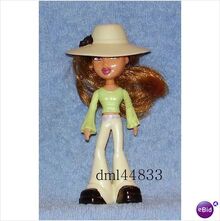 Gabby
Gabby Is A Female Bratz Doll From The Bratz Universe. She Is Your Everyday Teenager. She Wears A Green Blouse With Baige Pants And Black Shoes. She Has Her Hair In A Bun. She Is Best Friends With Abby. 
In Smash Bros:
She Is A Weak Competitor Being Only Able To Use Basic Female Attacks Until She Got A Reboot  She Now Can Grow Anything (Flower/Grass/Fruit/Vegetables).  She Is An Unlocked Character. She Was Origninally In Daniela's Smash Bros Until She Moved To Steven's Smash Bros Because Daniela "Got Too Old For Dolls". She Is Seen In Adventure Mode With Abby And Freddy Who Are Shopping With Them. When The Subspace Army Appears In The Mall Freddy Stops Them With Traps. When He Tries To Unmask Them He Realizes They Are Real And Is Turned Into A Trophy By Rex Who Breaks In To Mall With A Trophy Gun. Abby And Gabby Scream And Run Until They Are Seperated By A Fork. The Player Must Choose One While The Other Is Captured. Abby/Gabby Leave The Mall And Are Picked Up By Transformer. They Are Seen Entering The Subspace With The Others.
Known Attacks:
Slap
Kick
Scratch
Sweet Kiss
Fake Tears
Drain Hug
Vine Grab
Razor Leaf
Mega Drain
Fury Cutter
Grass Kick
Grass Whistlle
Final Smash:
Chlorophyll - She Gets Health Back, She Gets Negative Health Damage Meaning It Will Take Longer For Her To Get KO'd Later On Or At All
In Total Drama:
She Is A Strong Competitior But Can Be Considered A Very Selfish Girl. She Is Very Jealous Of Other Contestants Who Talk Or Become Friendly With Abby.
Community content is available under
CC-BY-SA
unless otherwise noted.