Batman/Wings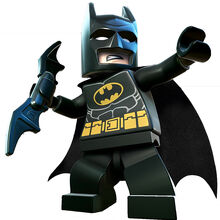 Batman/Wings Are A Dual Fighting Team. A comic book superhero created by artist Bob Kane and writer Bill Finger. The character first appeared in Detective Comics
27 (May 1939), and since then has appeared primarily in publications by DC Comics

. Originally referred to as "The Bat-Man" and still referred to at times as "The Batman", he is additionally known as "The Caped Crusader",

[4]

 "The Dark Knight",

[4]

 and "The World's Greatest Detective,"

[4]

 among other titles. He Is A Dark Fighting Type And His Wings Are Dark Flying. When Attacked, His Wings Have A Special Ability Called Back-Slash That Attack All Players On The Stage Regardless Of Who Attacked Him. His Wings Are Able To Move Around Freely And Can Use Some Flying Attacks. He Is A Parody Of Meta Knight Of The Kirby Series.
In Smash Bros:
He Is An Unlocked Character Via Adventure Mode Where He Appears Along Side Batwoman To Stop A Villian In Gotham City. His Wings Also Appear But Aren't Recieved Until Later In The Game. He Is An Avid Fighter Having A Final Smash And A Special Ability.
Known Attacks:
Bat Boomerang
Glide-Slash
Dark Punch
Drop Kick
Cape
Rapid Slash
Fly
Wing Attack
Cape Shield
Shadow Sneak
Faint Attack
Hide In Shadows
Mega Kick
Comet Punch
Bat Hook
Final Smash:
Galaxia Darkness- He Says "I Am The Night" The Stage Gets Dark And His

 Wings Hit Everyone On Stage. The Final Smash Can Be Avoided
​In Total Drama:
He Is An Avid Performer But Because Of His Solitary Personality He Fails To Make Any Alliance. His Wings Do Not Always Appear In Each Season With Him.
Community content is available under
CC-BY-SA
unless otherwise noted.