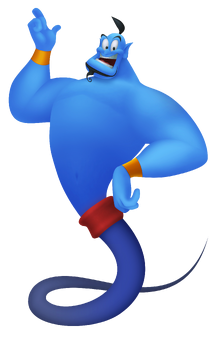 Alan
Alan Is A Blue Genie From Aladdin. He Took The Name After Growing Fond Of Aladdin And Wanted To Have A Name With 'A' And Ended 'N'. He First Appeared After Aladdin Rubs The Lamp And Becomes His Friend. He  Has A Voice Similar To Harold And Is Very Comical. His Feet Appear In This Version Instead Of Him Being Blue Gaseous Form. 
In Smash Bros:
He Is Unlocked After Tanya Rubs The Lamp And Frees Him In Adventure Mode By Saying "I Wish For Your Freedom" He Can Also Be Unlocked When Aladdin Wins 100 Matches Or 100 Matches Are Done On The Ancient Ruins Stage. Tanya Finds A Lamp With Alan In It And The Subspace Army Appears. Tanya, Alan And Hummingbrid Fight Them Off. After That Tanya Digs Until She Finds An Underground Cavity. There, Players Must Choose To Go Left Or Right. If Choosen Left Trina Will Be There. Picking Trina Will Result In Her Aid Against The Subspace Army Who Followed Tanya And Hummingbird Down. Trina Will Help Catapult Tanya And Hummingbird Out Of The Underground While Alan Will Teleport Away From Where A Subspace Bomb Is Planted. Afterwards He Meets Aladdin. Aladdin Then Joins The Adventure Mode And Is Not Seen Until Alan Transports Them To The Safe Zone.. If Not Then He Appears On The Stage Where He Was Supposed To Be Unlocked.
Known Attacks:
Transform
Sword Slash
Flame Kick
Ice Punch
Sweet Kiss
Teeter
Confuse Ray
Shadow Ball
Safeguard
Protect
Dance In The Dark (Lady GaGa Inspired)
​Final Smash:
Dark Genie - Using Jafar's Evil He Turns Red And Becomes Giant. He Then Picks Up The Stage Or Characters And Shakes Them Around. He Lets Out A Shirek That Reveils His Saddness In His Final Smash.
In Total Drama
He Is A Weak Player Being Mainly Used For Comical Relief. When He Does Play He Can Do Almost Any Challenge With Ease And Has Known To Block Bionicborg's Adapt And Trionicborg's Losing Streak.