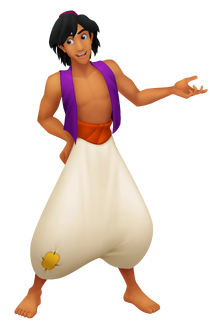 Aladdin
Aladdin Is A Male Gypsy/Theif From Disney. He Is The Main Protagonist Of His Movie And Falls In Love With Jasmine. He Is Middle Eastern And From Saudi Arabia. He Has A Pet Monkey Abu. He Fought Against His Greatest Advisary Jafar In The Movie With The Help Of Finding A Magic Lamp Containing A Genie In It. He Sports A Robe Pant, A Purple Vest And Fez Hat And Tan Sandals.
In Smash Bros:
He Is Strong In Magical Attacks And Is Also Strong In Physical Attacks And Is Also Very Nimble And Is Considered A Free-Runner. He Is Unlocked After You Obtain Avery Or Mowgli And Recieve Their Trophy In Classic Mode. Alan Will Teleport Away From Where A Subspace Bomb Is Planted. Afterwards He Meets Aladdin. Aladdin Then Joins The Adventure Mode And Is Not Seen Until Alan Transports Them To The Safe Zone & Entering The Subspace & Trophy Collection Process. If Not Then He Appears On The Stage Where He Was Supposed To Be Unlocked.
Known Attacks:
Theif
Teleport
High Jump Kick
Double Team
Trick Room
Body Switch
Magic Carpet
Hat Throw
Scary Face
Endure
Lamp Throw
Mega Kick
Magic Ball
Transform (Into Jasmine)
Final Smash
Abu - Abu Appears Causing Mischief To Other Players, Attacking Them, Taking Items And Preventing Aladdin From Getting Hurt.
​In Total Drama:
He's An Above Average Player Who Uses Hie Cunningness To Take Advantage Of Females And Some Males On The Show Making Them Fall In Love With Him. He Is Often Too Cocky And Can Sometimes Cause Others To Become Annyoed With Him.
Community content is available under
CC-BY-SA
unless otherwise noted.