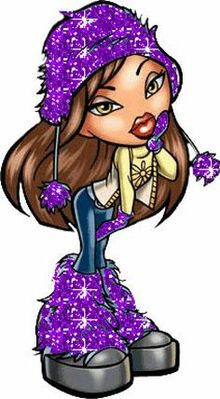 Abby Is A Female Bratz Doll From The Bratz Universe. She Is An Excellent Writer And Gives Good Advice. She Wears Purple With A Butterfly In The Middle And Has Her Hair Down. She Has A Best Friend Named Gabby. She Is Also A Parody Of Dear Abbey/Abby.
She Was A Weak Player In Smash Bros. Being Only Able To Use Basic Female Attacks Until She Got A Reboot So Now Her Love Of Bugs Will Help Her Do More Attacks. She Is An Unlocked Character. She Was Origninally In Daniela's Smash Bros Until She Moved To Steven's Smash Bros Because Daniela "Got Too Old For Dolls".  She Is Seen In The Mall With Gabby & Freddy Who Is Shopping With Them. When The Subspace Army Appears In The Mall Freddy Stops Them With Traps. When He Tries To Unmask Them He Realizes They Are Real And Is Turned Into A Trophy By Rex Who Breaks In To Mall With A Trophy Gun. Abby And Gabby Scream And Run Until They Are Seperated By A Fork. The Player Must Choose One While The Other Is Captured. Abby/Gabby Leave The Mall And Are Picked Up By Transformer. They Are Seen Entering The Subspace With The Others.
Slap
Kick
Scratch
Sweet Kiss
Fake Tears
Poison Hug
Uplift Wings
Glitter Shards
Absorb
Paper Cut
Poison Kick
Silver Wind
Summon - She Summons A Giant Butterfly (Similar To Beutterfly) That She Rides On The Stage. It Is Similar To Butterfly's Boss Battle In That She Attacks With Boss Attacks.
She Is A Poor Competitior But Can Be Considered A Very Nice Girl. She Gives Plenty Of Advice To Others Who Anoymously Send Her A Letter When They Are Uncertain What To Do Whether It Be Relationships, Friends, Or Who To Vote Off.
Community content is available under
CC-BY-SA
unless otherwise noted.